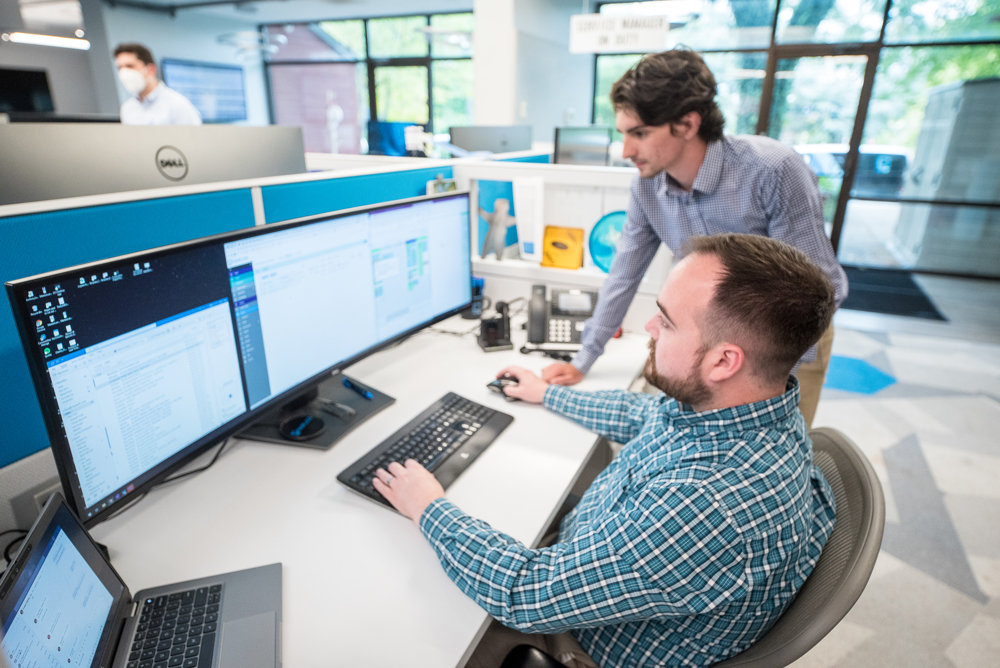 Managed service providers can help companies anticipate their technology needs and put

IT budgeting best practices

in place.
A nimble, forward-looking approach to technology spending is increasingly important in most fields of business. Yet many companies lack the on-staff IT experience to create capacity for this kind of dynamic approach to budgeting. With the help of experts, businesses can anticipate their technology needs and budget adequate resources to meet needs that arise in the future.
More and more, companies are turning to managed service providers (MSPs) to help them create a strategic technology plan. Earlier this year, Gartner, Inc. forecast that worldwide spending for IT services would increase 7.9 percent in 2022 and 8.8 percent in 2023, making it the second-fastest-growing category of IT spending, after software, as Forbes reported.
Worldwide IT Spending Forecast (Millions of U.S. Dollars)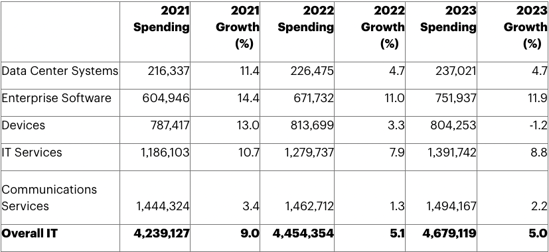 Source: Gartner, Inc. Forecast, January 2022
Businesses and entities as diverse as healthcare, manufacturing, government, nonprofit organizations, and financial services companies face compliance requirements that must be met, including HIPAA, CMMC, PCI, SOC2, and others. Additional technology is often an essential part of meeting these requirements.
Tom Tetrault, Team Lead and Project Manager for Charles IT, has seen the predicaments companies often face in IT budgeting and planning, as well as some important considerations they commonly forget to factor into their plans. He knows the IT budgeting best practices that can keep companies from getting caught flat-footed and wasting money.
Tetrault maintains that technology is not an isolated part of a company's operations – it's integrated into virtually every facet of those operations. For example, every division within a company generates an IT cost, which can include things like software maintenance and updates, staffing growth, and new integrations — even decommissioning old technology has an associated cost. So, companies need to shift to a model that is more comprehensive when they consider IT budgeting practices that deliver value. A strategic technology plan should reflect that and help a company get the most out of its tech investments.
IT Budgeting and Planning
Many aspects of an IT budget are consistent, Tetrault says – for example, internet service, labor, software licensing, and security.
Other aspects may be overlooked. Some may find it surprising, he says, but growing companies often budget for additional employees and new office space without factoring in the corresponding increases in technology costs. For starters, hiring 10 new employees often means buying 10 new computers. Then there are the costs of additional licensing and computer support hours.
One other important strategy for Tetrault is to help his clients fully leverage the technology that's readily accessible, such as the default applications that come with Office 365. "One of the first things we want to do is leverage what our clients are already paying for," Tetrault says. By solving some problems without spending extra money, businesses can use the funds they've saved to prioritize high-value investments. Sometimes the budgeting strategy also includes finding a single product that does the work of three other separate products.
IT Budgeting Best Practices:

Develop a Roadmap
Of course, security is an essential part of any strategic technology plan. Tetrault sees two layers – baseline security and industry-specific needs.
He is a firm believer in the value of multifactor authentication for every organization he advises. In fact, he says, it's increasingly difficult to get cyber insurance without it, and some companies are hesitant to do business with anyone who doesn't have it.
Beyond that baseline, security dollars should be focused to fit the client's individual needs and compliance requirements, effectively and efficiently. Some protections that are required for one type of company may be less important to another.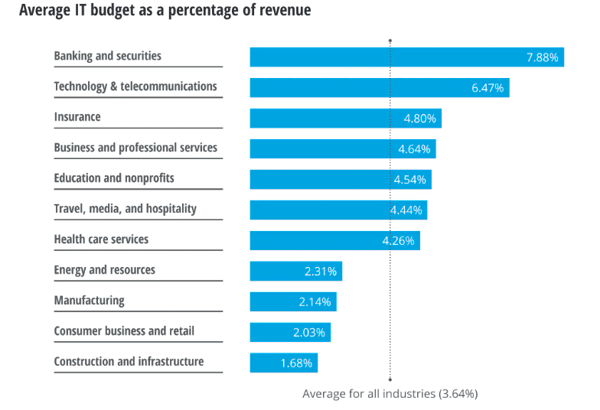 Source: 2018 Deloitte global CIO survey

Companies should look for a service provider that intimately understands compliance needs in their industry and can help them choose the product that offers the best solutions. "Make sure that your company is building your budget around your compliance requirements, as opposed to squeezing into a budget and potentially being vulnerable," Tetrault says. By planning ahead, you can prioritize the most critical items, and devise an implementation timeline and path for other goals.
The Role of

Managed IT Services
Companies that don't have their own IT departments or IT managers are at a disadvantage if they try to build an IT budget in-house. A managed service provider (MSP) is focused on technology every day and can ensure that IT budgeting best practices are followed. "The MSP really shines in their ability to find the items you may not be considering," Tetrault says. Using their experience, an MSP can take a lot of the guesswork out of estimating the technology costs of a major project, such as setting up a new office.
Some companies also have difficulty keeping up with license renewals and expirations or anticipating the lifespan of a server— managed IT services can help with that. Regular technology audits can identify operational and security improvements that should be implemented and help the client prioritize technology spending.
Perhaps the greatest value an MSP can bring to its clients is expertise in creating a customized IT roadmap that encompasses everyday budgeting but also goes beyond it.
IT Budgeting Practices That Deliver Value
An IT roadmap is developed through a collaborative conversation the MSP has with the customer to forecast IT needs and plan for priorities. The conversation revolves around the kinds of questions that will make IT planning successful: What big projects are planned during the next year and beyond? What resources will be required to make them happen?
When Charles IT works with a client on a roadmap, Tetrault says the process not only helps the client plan IT spending but also helps Charles IT ensure they can allocate resources when the client needs them.
Like a literal roadmap, this helps everyone involved visualize where they're going and how to get there. But it's not just a one-time plan that's developed, delivered, and done. The IT roadmap becomes an accessible part of an evolving strategic technology plan that is integrated into Charles IT's standard processes and available to all team members. A central goal, Tetrault says, is to minimize surprise.
Charles IT Sample Roadmap with Budgeting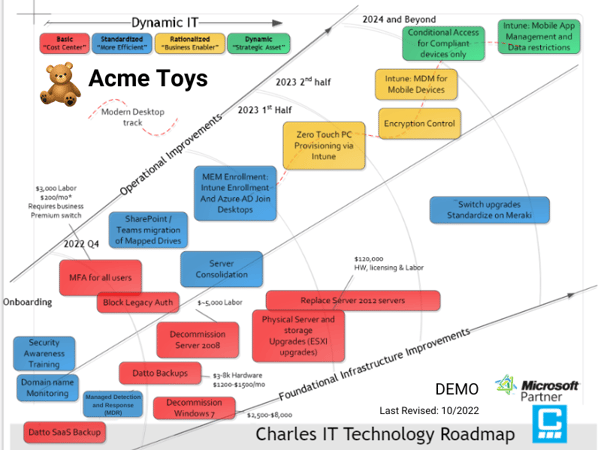 Source: Charles IT
As such, there's a formal check-in bi-annually to re-evaluate and revise the plan, but there's a day-to-day element as well. Team members make recommendations that push the process down the road toward the next destination. This approach gives Charles IT and its clients the opportunity to make changes in real-time in response to evolving situations, including new types of cyberattacks.
IT budgeting practices that deliver value are those that help companies avoid implementing lesser solutions that end up costing them more in the long run. Jon-David Lovelock, research VP for Gartner, told TechTarget this year that he foresaw an increased interest in, and emphasis on, long-term projects coming out of the pandemic, resulting in an increased need for managed IT services. In a piece on the evolution of IT spending, Deloitte noted a shift from viewing IT as simply a budget item to an area of essential investment.
Developing Your

Strategic Technology Plan
Tetrault sums it up this way: "Most companies are too narrow in what they're envisioning the IT budget to really include." Most need to adopt a broader view of IT budgeting and planning. To do otherwise is almost like buying a house and not having any room in the budget for repairs. An IT budget needs to have enough overhead to deal with unexpected needs that arise during the year. Technology costs can be dynamic. Likewise, "the budget should account for the unknown, as companies' priorities or technology requirements can shift mid-year," Tetrault says.
For example, a company facing a sudden new compliance requirement can benefit from a more flexible budgeting approach. The MSP can help determine what technology needs to be deployed to meet such requirements – and help the business decide whether their revenue from a potential contract that brings additional compliance requirements is worth the cost of meeting those requirements.
A common mistake, he says, is not bringing all the right people into the discussion. A company's management service provider may need to be included in discussions of major projects, not just day-to-day technology budgeting. At best, it's wise to run the intended project past your account manager to determine if further discussions are needed.
"By working to prioritize items in the right order, from a technology perspective, an MSP can ensure that you're going down the right path and spending your dollars in the right buckets," Tetrault says.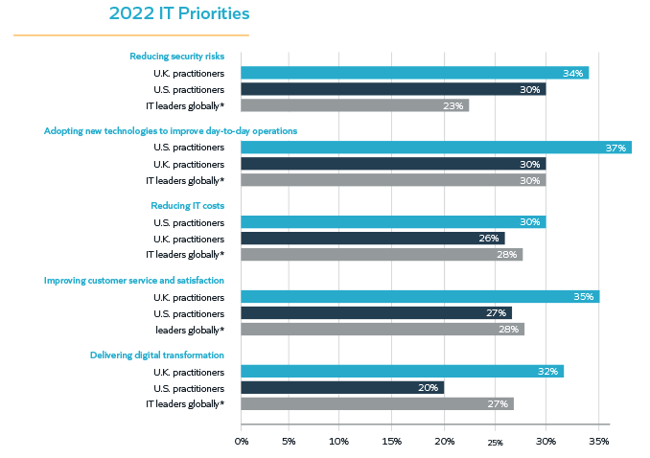 Source: Snow Software, 2022 - Survey of 1,000 IT leaders from companies with at least 100 employees from the United States, the United Kingdom, Germany, Australia, and India.
A comprehensive but flexible strategic technology plan is a huge advantage for companies navigating an ever-evolving tech environment. Looking to get started? Schedule a consultation with an expert to evaluate your IT services.