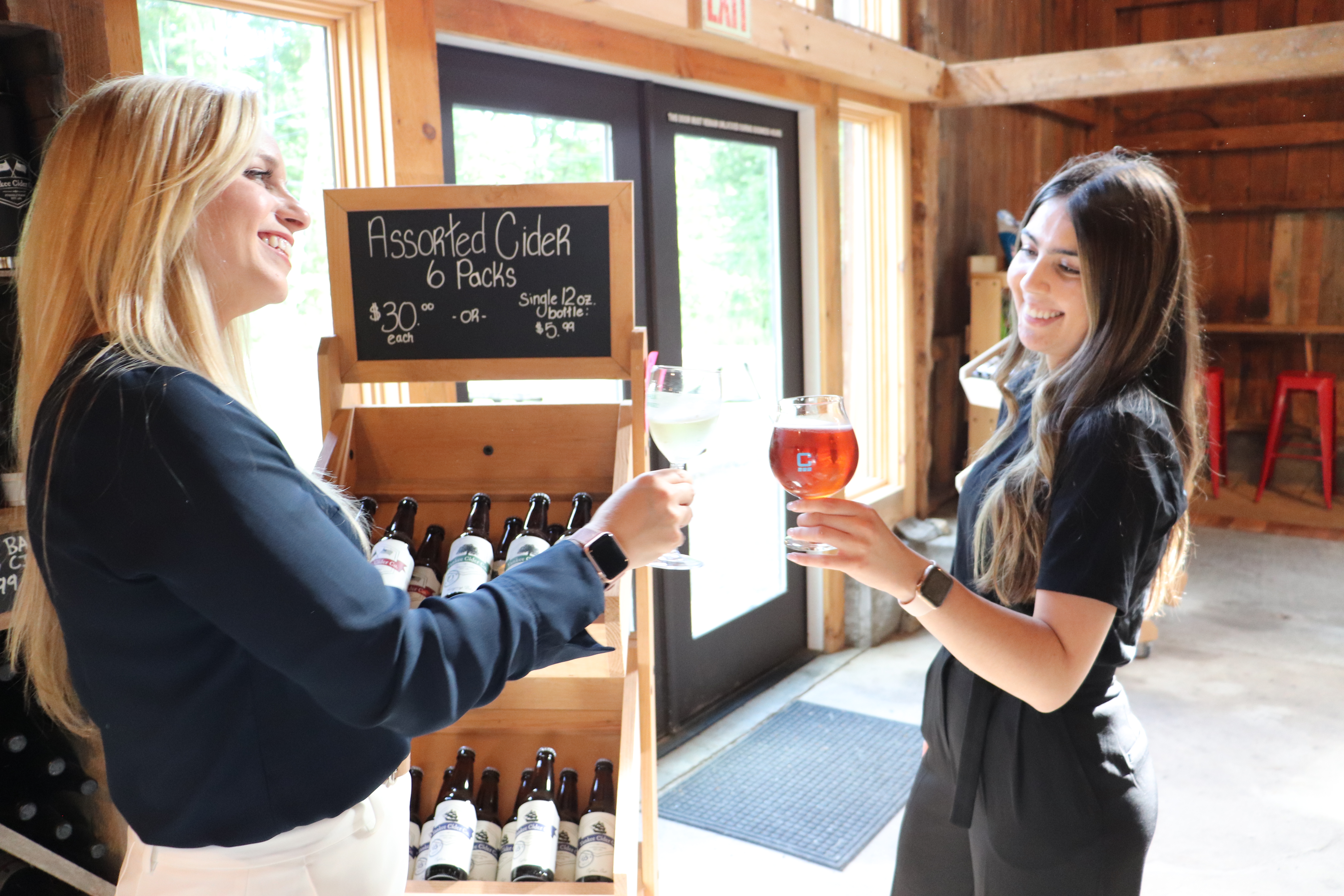 In anticipation for our upcoming Cider Security event, our Marketing team embarked on an exciting field trip to the Yankee Cider Company. Our goal was to get a feel for the venue, take some great photos, and try some of their infamous, award-winning ciders.
According to Google Maps, the trip takes approximately 15-20 minutes from our Middletown office. However, as we pulled off the highway and drove through the town of East Haddam, it was as though we had been transported out of time -- the bridge, though modern, was pristinely painted a bright white as an ode to the wooden bridges of the past. Signs were posted for a cabaret theater that was taking place in the town's music hall, and small boats could be seen sailing down the river. We passed shops adorned with beautiful flowers and used a brightly painted, fuchsia ice cream shop as a directional landmark so we could find our way back.
As we drove out of the town center, we passed local farms and horses grazing in their pastures. Classic New England stone walls edged the residential properties and we all found ourselves craning our necks to see what picturesque scene would be coming into view next!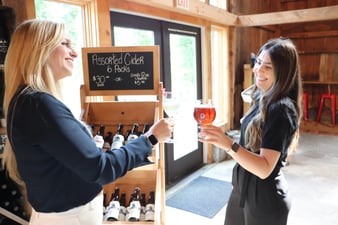 As we pulled into the Yankee Cider Company parking lot, we noticed that both the cidery and their working agricultural farm were adjacent to one another. Later we learned that this was no mistake.
Walking into the Cider Barn, the smell of fresh wood filled the air. Everything from the bar to the oversized, indoor picnic tables were crafted with a nod to the natural landscape. Even the labels found on the cider bottles speak to their creator's love of history and his New England roots. Each bottle displayed a story from George Washington and Revolutionary War -- all with a twist to include a cider reference, of course.
Although Kevin, the heart and brains of Yankee Cider, wasn't there, we had the chance to speak with his wife, Gail, and hear the story of the cidery's beginnings.
Kevin discovered his love for cider while away at school in Washington state. When he returned home to run the family winery, he brought this love with him and found a way to produce both wines and distinct hard ciders. Starting small at their farm stand, Kevin sold his ciders and noticed the increasing popularity that would quickly outgrow his space at the time. As luck would have it, it was around that same time when an old livestock barn across the street from the farm became available. The family purchased the property, fully renovating the barn but keeping its overall look and feel.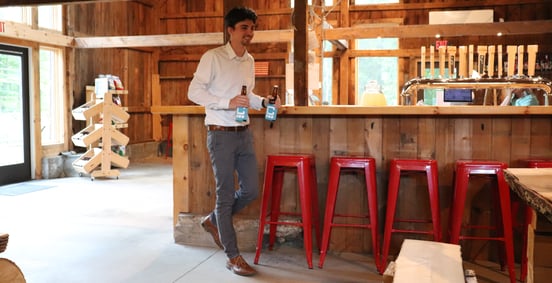 The Yankee Cider Company officially opened three years later, in August of 2020. Known already for their cheeses, honey, jams, and wine, the opening of the cidery garnered a lot of local attention and resulted in a successful first season. However, the pandemic presented unique challenges for Kevin and Gail, who saw the opportunity to provide contactless pickup by leaving cider orders on a picnic table outside their front door. Through word of mouth and compounding local support, they made it through their first years, proving how exceptional their cider really is.
Our marketing team began the evening by sharing a flight of six hard ciders, chosen by the bartender after we insisted upon a "Dealer's Choice" selection.
New England Dry Hard Cider
Honeycrisp Blend Hard Cider
Tart Cherry Hard Cider
Peanut Butter Hard Cider
Red Wine & Rum Barrel Aged Hard Cider
Semi-Sweet Apple Wine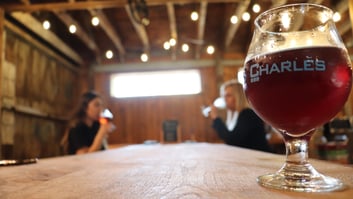 Coming out as the crowd favorites for the evening were the New England Dry, the Tart Cherry, and the Semi-Sweet Apple Wine. The Honeycrisp Blend and Red Wine & rum barrel Aged ciders were close runner-ups, with the Peanut Butter being a little too adventurous for our crew.
After ordering another round of individual glasses (for photo purposes, of course!) the team explored the rest of the indoor space and headed outside to enjoy the fresh air and blazing fire pits.
We can't wait to head back to Yankee Cider Company for our upcoming Cider Security event and we hope to see you there!