SOC 2 stands for service organization controls version 2, which was introduced to document and validate a business's efforts to secure client data.
Almost every service-based organization, such as SaaS providers and other cloud companies, should be SOC 2 compliant. Aside from being a requirement of the Sarbanes-Oxley Act (SOX), it's also something clients will undoubtedly start asking for. As an independent review of your current information security posture, it demonstrates your capabilities to the point of becoming a valuable tool for client acquisition and retention.
What is Managed Detection and Response?
Managed detection and response (MDR) is an outsourced service providing proactive threat hunting, as well as the responses necessary to remediate after an attempted data breach. A dependable service also provides a critical human element in the form of security expertise to diminish disruptions caused by false positives and evaluate the severity of each event.
MDR is important, especially for smaller organizations that have limited in-house resources to run and enforce their own security systems. It helps you stay ahead of the threats and uphold your efforts to remain compliant with SOC 2 and other standards and regulations.
What is SOC 2 Type 2 Compliance?
SOC 2 comes in two forms. Type 1 audits are conducted based on the state of your security systems and protocols at a given point in time. This allows you to compare where you want to be alongside the reality of your current information systems. By contrast, a type 2 audit looks at your security posture over a given period, with the minimum being six months. Achieving SOC 2 compliance is one thing, but maintaining it requires a long-term commitment with yearly evaluations in the form of a SOC 2 Type 2 report.
Since an MDR program is a proactive approach driven by real-time data and insights, it also helps you maintain compliance. That means you should be ready for your next SOC 2 type 2 report when the time comes.
Here's how that helps your business: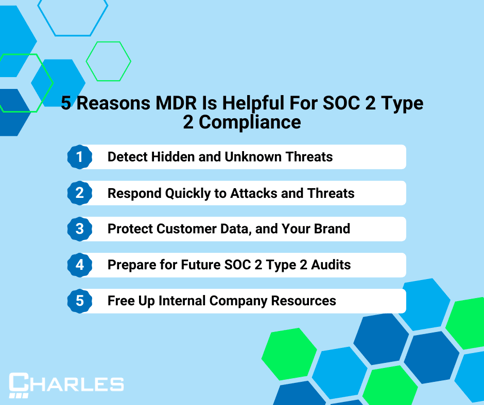 #1. Detect Hidden and Unknown Threats
The days when cybersecurity revolved around antivirus software and firewalls are long gone. Though still an important part of overall security posture, these reactive measures aren't nearly enough to protect against more dangerous threats, such as hidden and unknown ones. New threats appear all the time, and avoiding those that have already hit other organizations is only the beginning. MDR goes beyond basic monitoring to provide heuristic scanning and detection of suspicious activities in addition to known threat signatures.
#2. Respond Quickly to Attacks and Threats
Proactive cybersecurity requires a combination of human expertise to identify and respond to threats in real time. MDR provides a means to monitor attack campaigns over time to develop a complete audit trail and map out every individual attack vector. With automated alerts based on real-time data-driven insights, MDR saves time over chasing individual alerts and allows you to quickly investigate the impact of each threat. This also makes it easier to perform a root cause analysis to uncover hidden vulnerabilities you might not have known existed.
#3. Protect Customer Data, and Your Brand
Customers of SaaS and other service-based companies make their purchase decisions based on trust and transparency. No one wants to do business with a high-risk vendor, which is why clients often ask their vendors to provide proof of SOC 2 compliance. MDR is one of several solutions you should be using to uphold your compliance and security efforts. It offers peace of mind by ensuring you're always kept informed about cyberthreats to protect against them before they cause reputational damage.
#4. Prepare for Future SOC 2 Type 2 Audits
Organizations also need to maintain their compliance efforts, which is why many have a SOC 2 report carried out every nine to 12 months. This evaluates the performance of your security systems and procedures over a certain timespan. MDR makes this easier, since it provides a complete audit trail of every potentially risky activity and cyberthreat. That way, you have a full documentation of how attempted attacks were thwarted. This will greatly increase the chances of a successful SOC 2 type 2 audit in the future.
#5. Free Up Internal Company Resources
Information security can be enormously demanding, and most companies simply don't have the resources necessary to ensure the high standards their clients demand. As an outsourced solution, MDR frees up time and money while offering you the same standard of cybersecurity that was previously only available to much larger organizations. MDR detects and contains all incidents at machine speed by using cutting-edge solutions like artificial intelligence. At the same time, human expertise can be brought in on demand to evaluate threats and alerts and remediate before it's too late.
Charles IT provides managed detection and response services to ensure you're always a step ahead of cyber attackers. Get in touch today to schedule a consultation!
*Editors note: This blog was originally published on January 13th, 2021. It has been updated on November 30th, 2022 for accuracy.