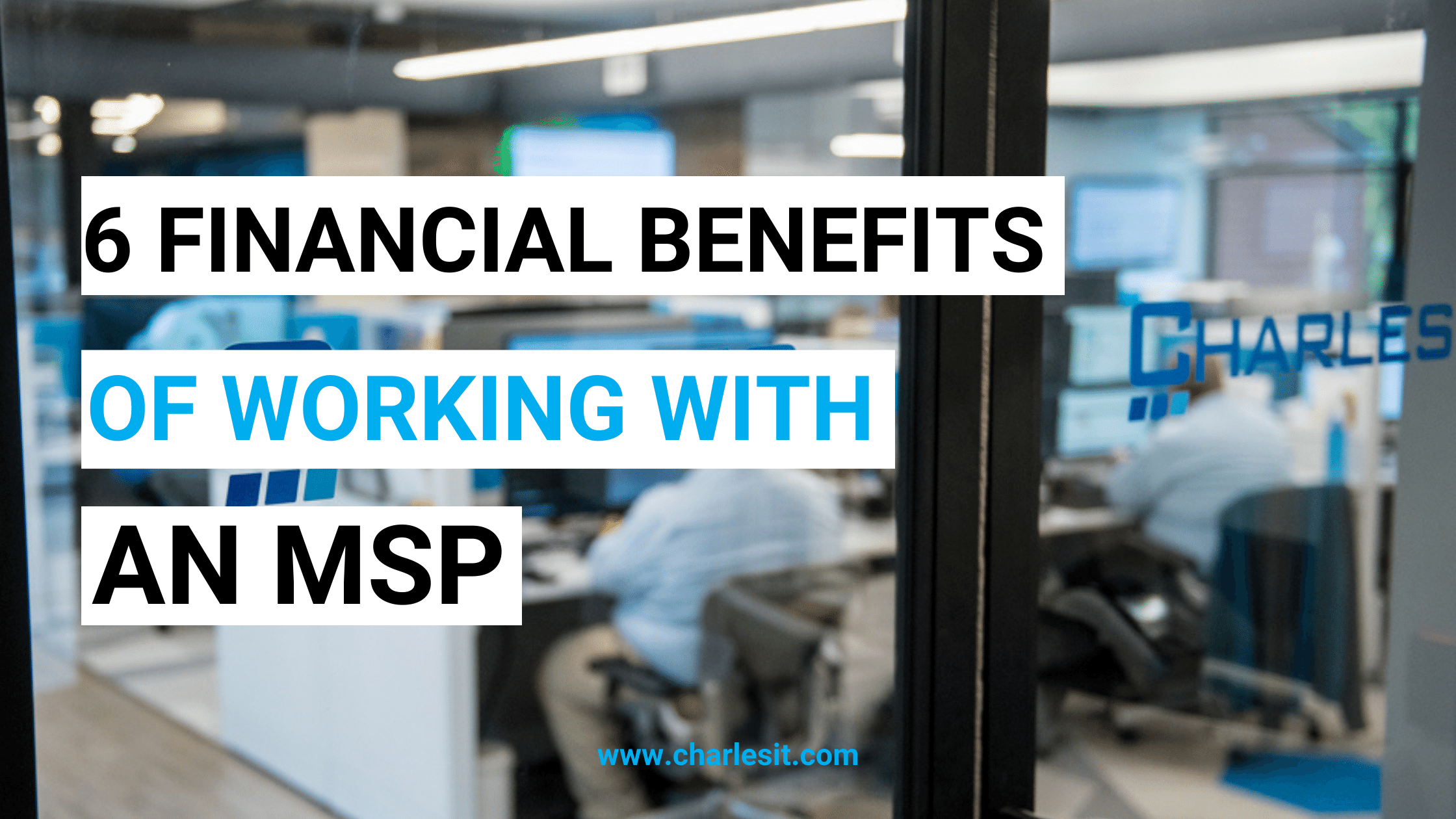 Large organizations are not alone in needing technology to compete in their respective markets. Companies of all sizes prioritize operational efficiency, but not all are equally equipped to sustain it. Small- and medium-sized businesses (SMBs) may have limited IT resources and can quickly fall behind in updates and network management, putting them at risk of an outage or breach.
Determine if an MSP is a Fit for Your Business
If your business is experiencing growth, you might find yourself at a turning point where you must decide whether to hire a full-time IT professional, expand your existing IT department, or turn to a managed services provider (MSP).
Outsourcing your IT needs to an MSP lightens your load and offers you numerous services that can range from round-the-clock monitoring to security and help desk support. Considering all these productivity-boosting features, you still want to know what value you'll get for your money. It all boils down to cost versus profit.
A common barrier to investing in a partnership with an MSP comes down to your internal IT staff who may worry about the security of their in-house tasks. In reality, few companies have the in-house bandwidth to manage all the technology functions that an MSP can support. For example, keeping up with compliance and regulatory demands can be challenging because your primary focus is on driving down operational costs, strengthening customer relationships, and improving financial management.
One of the biggest challenges for businesses, however, is putting the right people and resources on value-adding projects. Without available investment funds and resources, it can become difficult to ensure that your talent is focused on core areas while also optimizing productivity. The gap between managing your IT environment and business processes will continue to widen without proper and constant support.
The increasing dependence on automated systems and digital databases calls for a shift toward more secure and efficient systems, which an MSP can provide. In addition to greater operational efficiencies, the following are six financial benefits to be gained from IT outsourcing and working with an MSP:
1. Control IT Costs
Outsourcing means your fixed IT costs will be converted to variable costs, allowing you to budget more effectively and allot resources more efficiently. In other words, you'll only pay for what you use when you need it. Forbes Business Development Council recently published an article that does a great job of explaining the IT cost control benefit:
If you compare the costs of staff employees to the costs of outsourcing, I would say it is much easier to plan your budget with the outsourcing option, especially for smaller companies. While outsourcing, you would pay only for services you ordered. With in-house staff, you would need to pay for annual leaves and sick leaves and keep up the workload to justify salaries. Forbes.com, Understanding the Financial Impacts of Outsourcing IT Services.
An MSP will also help you offset initial investments in technology costs, including expensive upfront hardware and software costs. Since you'll be paying a fixed monthly fee, you'll also eliminate the exorbitant capital expenditure. Not to mention the regular software updates, which keep everything secure and up-to-date over time.
2. Quickly Adapt & Implement New Technology
A good MSP has the resources to help you start new projects right away. Handling the same projects in-house could take weeks or months, especially if you need to hire, train, and provide the support a new person would need. Look for an MSP that has experts focused on all aspects of your IT needs, including hardware, cloud databases, cybersecurity, and more.
MSPs also bring years of experience, saving you time and money. This includes web-based platforms like cloud computing and data backup systems that ensure better functionality and administration of your shareable content, as well as the maintenance of safe operations.
3. Reduced Labor Costs
Training IT staff can be costly and temporary employees or interns don't always live up to your expectations. With an MSP, you can focus your human resources where you need them most.
4. Increased Efficiency & Competitiveness
Maintaining a strictly in-house IT department can entail higher research, development, and implementation time. Furthermore, it can make it increasingly difficult for employees to focus on their primary tasks if any holes exist in terms of IT expertise.
With an MSP, both technical and non-technical employees are able to manage their time better and work more efficiently, without being distracted by day-to-day tasks. MSPs have the expertise along with a software and hardware stack to fit your needs. This eliminates the need to perform the research and development of a solution yourself.
5. Improved Vendor Management

An MSP can deal with vendors on your behalf, which means issues are escalated and resolved promptly. They will serve as your main point of contact for third parties, deal with problems, and track progress with the appropriate vendor through to resolution.
Having a single, trusted IT partner streamlines operations and avoids burdening an employee with tasks that could be better dealt with by a subject matter expert.
6. Economy of Scale
With the rate of technological advancements today, scalability is vital to driving your business' growth and development. As your company expands, you need to anticipate unexpected hurdles like changes in technology and compliance requirements.
Moreover, MSPs will provide services that handle growth spurts and emerging IT issues. This eliminates any detrimental downtime, improves system availability, and helps your business stay productive.
---
Professional IT consultants will address your business's short and long-term technical and operational pain points while helping you stay responsive and competitive. They'll also proactively explore and identify trends and enhancements for improvement.
A qualified and reliable MSP will propel your business beyond the competition with a wide range of benefits. If you're considering outsourcing your IT services, contact us now to talk about your company's unique needs.
Editor's Note: This piece was originally published in January of 2019 and has been updated for accuracy and comprehensiveness.