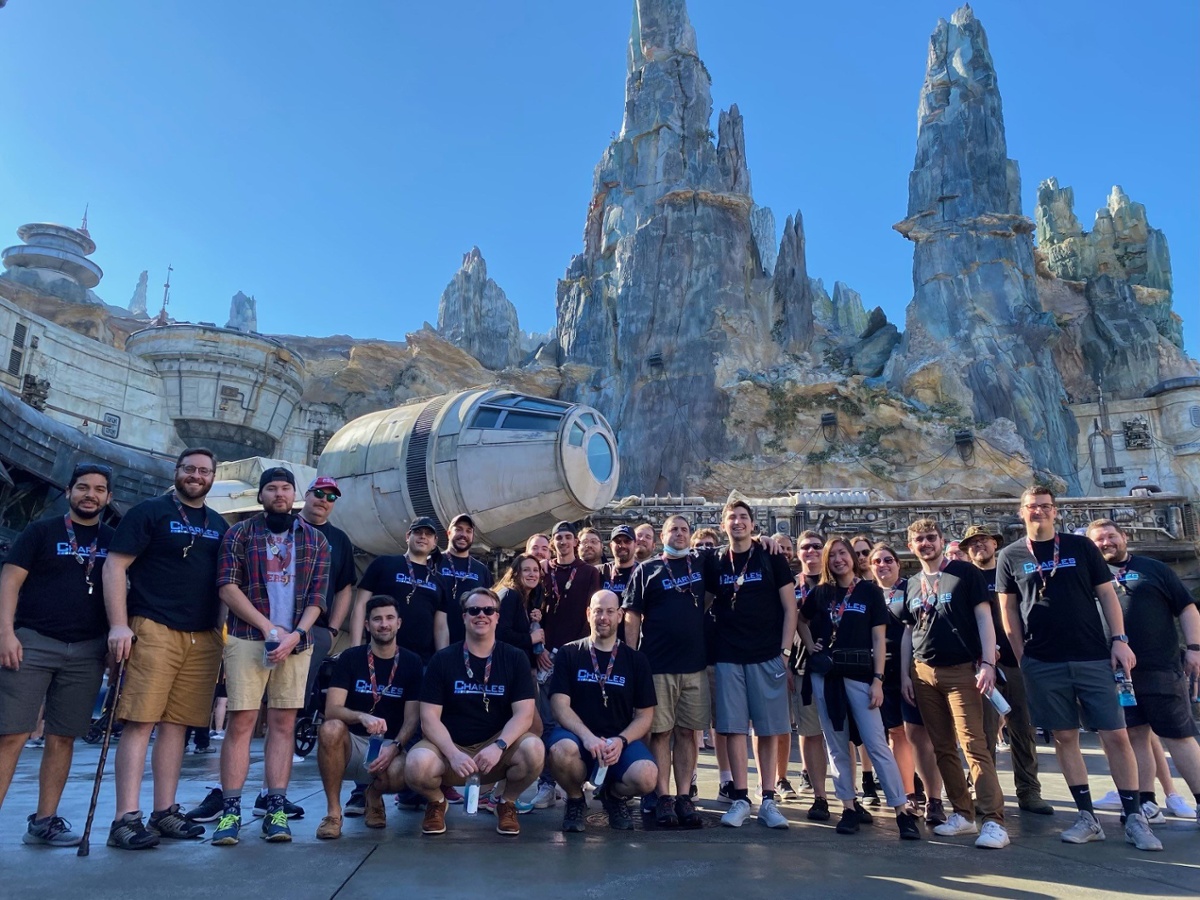 NEWS PROVIDED BY
Charles IT and Marcum LLP >>>
October 27th, 2022
Charles IT Named To The 2022 Marcum Tech Top 40 Companies in Connecticut List
Middletown, Connecticut (10/27/2022) – Charles IT has been named a winner in the 2020 Marcum Tech Top 40 awards program recognizing the fastest-growing technology and life sciences companies in Connecticut.
This marks the third consecutive year that Charles IT has been named to the list after taking home the "IT Services" category overall winner back in 2020.
Described as your friendly, no-nonsense IT team, Charles IT focuses on helping companies in highly regulated industries make their technology work for them.
As the company puts it, "Here, IT is personal: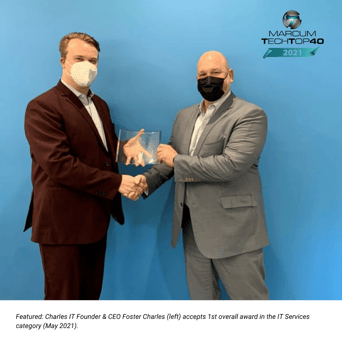 We know that disaster recovery, cloud services, and complex compliance certifications from HIPAA to CMMC and DFARS are only half the work. The other half is about helping people – building real relationships that deliver real results and create raving fans that are excited to call us part of the team. Call us day or night, snowstorm or hurricane, and we're on call and on point with a smile and a solution every time."
About the Marcum Tech Top 40
Previously produced in collaboration with the Connecticut Technology Council, the Marcum Tech Top 40 recognizes technology and life sciences companies with at least $3 million in annual revenue and a four-year record of growth in six industry sectors. Both privately held and publicly traded companies are eligible.
"The Marcum Tech Top 40 program is dedicated to showcasing Connecticut companies that have persevered against tremendous odds not only to achieve truly impressive growth but to become exemplars for other tech companies seeking models of success. We congratulate Charles IT for its remarkable accomplishments and wish the company every continued success as it continues to make its mark on the Connecticut technology sector," said Michael K. Brooder, CPA, managing partner of Marcum's Hartford, Connecticut, office and national leader of the Firm's Technology & Life Sciences practice.
About Charles IT
Charles IT is the Northeast's compliance expert, headquartered in Middletown, Connecticut, with a second location in Stamford, Connecticut. As a managed service provider (MSP), Charles IT also specializes in compliance, including SOC 2, HIPAA, DFARS, CMMC 2.0, and NIST CSF, in addition to its IT support, security, and service offerings. With a human-first focus, Charles IT values knowing client teams just as much as knowing their technology, allowing the MSP to find the right solutions that take clients from functioning to flourishing.
About Marcum LLP
Marcum LLP is a top-ranked national accounting and advisory services firm dedicated to helping entrepreneurial, middle-market companies and high-net-worth individuals achieve their goals. Marcum offers industry-focused practices with specialized expertise to privately held and publicly registered companies and nonprofit and social sector organizations. Through the Marcum Group, the Firm also provides a full complement of technology, wealth management, executive search and staffing, and strategic marketing services. Headquartered in New York City, Marcum has offices in major business markets across the U.S. and select international locations. Marcum is committed to the advancement of diversity, equity and inclusion. The Firm is a founding member of LEA Global and is the exclusive U.S partner firm of ECOVIS International. Ever wonder where the people with all the answers get all the answers? #AskMarcum. Visit www.marcumllp.com for more information about how Marcum can help.
2022 Marcum Tech Top 40 Winners
Connecticut's 2022 winners by category:
Advanced Manufacturing | Overall Winner: Tronox Holdings plc (Stamford)
Other winners:
Frame It Easy (Derby)
Foster Corporation (Putnam)
RBC Bearings (Oxford)

Amphenol Corp /DE/ (Wallingford)

Reed's, Inc. (Norwalk)

Silgan Holdings Inc. (Stamford)

Photronics Inc. (Stamford)

Gartner, Inc. (Stamford)
Energy, Environment or Green Technology | Overall Winner: EMCOR Group, Inc. (Norwalk)
Other winners:
IT Services | Overall Winner: CompassMSP (Hartford)
Other winners:
Charles IT (Middletown)
Hybrid Pathways (Hartford)
MResult Corp. (Mystic)
Network-1 Technologies, Inc. (New Canaan)
COCC (Southington)
ADNET Technologies, LLC (Rocky Hill)
Saisystems International (Shelton)
Advanced Technology Consulting (ATC) (South Windsor)
U.S. Computer Connection (Stamford)
Life Sciences | Overall Winner: ARVINAS, INC. (New Haven)
Other winners:
Arvinas, Inc. (New Haven)
IsoPlexis Corp. (Branford)
Mannkind Corp. (Danbury)
Metrum Research Group (Tariffville)
Cara Therapeutics, Inc. (Stamford)
KUBTEC Scientific (Stratford)
Signify Health, Inc. (Norwalk)
New Media, Internet or Telecommunications | Overall Winner: Chicken Soup for the Soul Entertainment, Inc. (Cos Cob)
Other winners:
Chief Executive Group, LLC (Greenwich)
Software | Overall Winner: Triax Technologies (Norwalk)
Other winners:
Inbox Health (New Haven)
OWIT Global (West Hartford)
IntelliBoard (Monroe)
Arccos Golf LLC (Stamford)
Datto Holding Corp. (Norwalk)
SS&C Technologies Holdings Inc. (Windsor)
Sturm Ruger & Co. Inc. (Southport)
Clarity Software Solutions, Inc. (Madison)
Factset Research Systems, Inc. (Norwalk)
---
CONTACT INFORMATION
Marcum LLP | Nichole René, Marketing Manager | (860) 760-0714
Charles IT | Betta Greenberg | BettaG@charlesit.com | (860) 344-9628