With the increasing number of cyber attacks happening every day, it is more important than ever for businesses to implement a robust cybersecurity program. One of the most straightforward ways to do this is to follow the guidelines set in the National Institute of Standards and Technology Cybersecurity Framework (NIST CSF).
What is NIST CSF?
As we've discussed in past posts, NIST CSF is a set of standards and best practices designed to help organizations across all industries understand and manage their cybersecurity risks.
NIST CSF guidelines are organized into five core functions: identify, protect, detect, respond, and recover. Each function contains a set of key activities and outcomes that businesses should strive to achieve.
Why Businesses Should Implement NIST CSF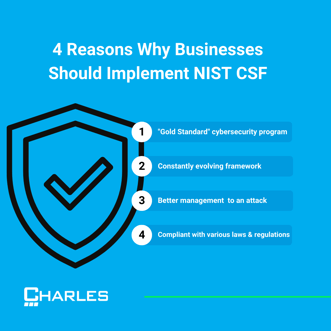 There are many reasons why businesses should implement NIST CSF. For one, it's recognized as the "gold standard" for creating a cybersecurity program. This means that when you implement it, you can be confident that your cybersecurity program will be effective in protecting your data. Additionally, NIST CSF is constantly evolving to keep up with the latest cybersecurity threats, so you can rest assured knowing that your program will be able to adapt as new threats emerge.
The framework can also help your organization manage and respond to cybersecurity incidents more effectively. By having clear and concise disaster recovery plans in place, you can minimize the impact of any attack and get your business back up and running as quickly as possible.
Finally, NIST CSF can serve as a valuable tool for compliance with various laws and regulations. Many regulatory bodies, such as the Securities and Exchange Commission (SEC) with SOX compliance and the Department of Health and Human Services (HHS) and Office of Civil Rights (OCR), HIPAA compliance, reference NIST CSF when outlining their cybersecurity requirements. By implementing the framework, you can demonstrate that your business is taking the necessary steps to protect its data and meet these compliance obligations, which could also save you from fines in the event of a cyber attack
How Hiring a vCISO Helps
While NIST CSF is a great starting point for improving your organization's overall cybersecurity strategy, it can be difficult to implement on your own if you don't have a dedicated security team. This is where vCISO support comes in.
A vCISO, or virtual Chief Information Security Officer, is a security professional who provides guidance and support to businesses that don't have the resources to hire a full-time CISO. They can help you meet all the requirements of NIST CSF, as well as any other cybersecurity standards, best practices, and goals that your business strives to achieve.
When you work with a vCISO, they'll first assess your organization's current cybersecurity posture. Next, they'll develop a customized security program that aligns with both the NIST CSF requirements and your business goals. This program will be tailored to your specific industry and business needs, and will evolve over time as your company grows and changes.
Your vCISO will also work with you to establish metrics for measuring the success of your security program. These metrics help you keep track of your progress and determine areas for improvement. Moreover, your vCISO will provide regular reports on the state of your cybersecurity, as well as recommendations for further improvement.
Ultimately, hiring a vCISO is the best way to ensure that your organization's cybersecurity strategy is both comprehensive and effective. By working with an experienced security professional, you can be confident that your program will meet all the requirements of the NIST cybersecurity framework and help keep your business safe from cyber threats.

If you're interested in learning more about how a vCISO can help your business, contact Charles IT today. Our team of security experts would be happy to answer any questions you have and help you get started on the path to improved cybersecurity!