Today, more and more businesses are leveraging cloud computing to access, process, manage, and store key business data and resources. It allows them to take advantage of computing services on a pay-per-use basis, which brings significant savings and numerous other business benefits.
We've talked about private and hybrid clouds, but in this blog post, we'll dive into another cloud computing delivery model: the public cloud.
What Is the Public Cloud?
Of the three cloud computing delivery models, the public cloud is the most commonly used by organizations and individual users. It is an environment where IT resources are shared among many users over the public internet. Examples of public cloud services include Gmail and Yahoo Mail.
Third-party service providers such as Microsoft and Amazon own and operate public clouds. They take charge of purchasing, managing, and maintaining servers, data centers, and IT infrastructures necessary to run public cloud environments. Users, on the other hand, simply have to rent the IT resources they need from providers via the internet. As such, the cost of supporting a public cloud environment is spread across all the users of the service.
What Are the Pros of Using a Public Cloud Platform?
#1 Reduced Upfront Costs
Since third-party service providers are the ones that deploy public cloud environments, you don't have to shell out for huge upfront costs. Instead, you pay a fixed monthly subscription fee, sometimes with minor initial setup fees.
What's more, since there are multiple users of public cloud environments, you benefit from economies of scale — the more users, the less average costs. That's why the public cloud is the lowest-priced option among the cloud computing delivery models.
#2 Reliability
Public cloud providers store their servers in data centers that are protected with enterprise-grade security and climate control to prevent system failure. Not only that, but they also spread out their data centers around the globe. So if a power outage or disaster strikes one data center, another data center can immediately serve as a backup to ensure maximum uptime.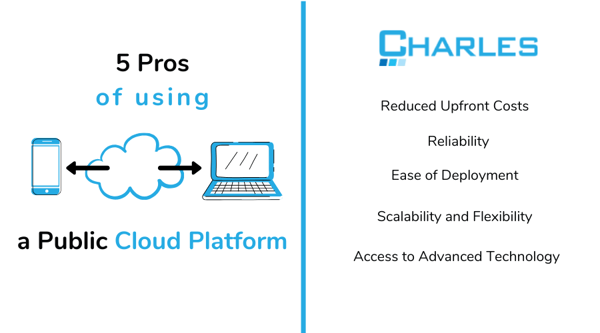 #3 Ease of Deployment
If you have a new project that would require computing resources, you can immediately rent the resources you need from your provider since these are readily available. The likes of Amazon, Google, and Microsoft have petabytes available on-demand with enterprise-level service, security, and governance.
#4 Scalability and Flexibility
Since you pay only for the resources you need, you can easily scale up or down your subscription. With just a few clicks of a button, you can increase your resource allocations to meet greater demand during peak seasons. You can quickly do the opposite during lean months.
#5 Access to Advanced Technology
Public cloud providers constantly update their hardware and software to maintain their competitive edge. This gives you access to the latest technologies, such as artificial intelligence, Kubernetes, and big data.
What Are the Cons of Using a Public Cloud Platform?
#1 Possible Security and Compliance Issues
Since third-party providers own and control public cloud environments, you do not have direct control over things such as data storage, software updates, and security measures. This may be problematic for companies that are part of highly regulated industries such as healthcare and finance. Compliance issues may prevent you from migrating certain sensitive information (e.g., protected health information) to the public cloud since those require higher levels of data security and user privacy.
#2 Lack of Customization
Since the public cloud hosts multiple tenants, you can only customize it to fit your needs up to a certain degree. So if you need a very complicated network architecture or complex application process, the public cloud may not be able to meet your requirements. You might need a private cloud or hybrid instead.
Each type of cloud computing delivery model has its own pros and cons. To help you figure out which option best suits your needs, turn to the experts at Charles IT. Reach out to our team to learn if hybrid, private or public cloud solutions are right for you!