Today's companies are highly reliant on their IT systems for business operations. That's why major IT problems — whether caused by natural disasters, cyberattacks, human error, or technology failure — often adversely impact their productivity, revenue, and reputation. In fact, a Gartner report estimates that the average cost of IT downtime is $5,600 per minute. In the worst cases, major IT problems also cause drastic data loss, which can result in noncompliance penalties, lawsuits, and even bankruptcy.
To ensure business continuity and resiliency, your company must have a comprehensive disaster recovery solution in place. This will restore your data and get your systems back up and running right away should a disaster strike. An increasingly popular option you can consider is a public cloud disaster recovery solution. Here are the different reasons why you should opt for it:
#1 Affordable
For a disaster recovery plan to be effective, your data should be backed up, replicated, and stored in a location that's at least 500 miles away from your office. This prevents regional disasters from destroying both your on-premises and off-premises data centers.
For traditional disaster recovery solutions, this means setting up physical servers in a remote location. This requires heavy upfront capital investment for warehousing, hardware, software, transportation, and other expenses.
On the other hand, with a public cloud-based alternative, a cloud service provider (CSP) shoulders all of these capital expenditures, including subsequent maintenance, update, and upgrade costs. You simply rent space in the cloud for a predictable monthly rate. What's more, a competent CSP like Charles IT can offer many geographically dispersed off-premises data centers to ensure that your recovery site is located sufficiently far away from your office.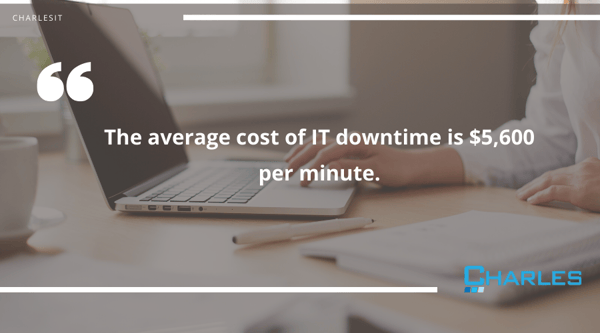 #2 Flexible and Scalable
Public cloud disaster recovery solutions adopt a pay-per-use model wherein you only pay for the services you need. So if you need more storage, memory, or processing power, you just have to pay more for the additional resources. At the same time, should you no longer need some of the resources assigned to you, you just have to ask your CSP to reduce your subscription, thereby lowering the cost of their services. This allows you to easily tailor a disaster recovery solution to your changing needs.
#3 Easy to Deploy and Manage
A CSP covers all the costs and does all the initial groundwork necessary to provide a public cloud disaster recovery solution. And since you can also leverage the CSP's expertise and specialized knowledge, you can get started right away with creating redundancies of your data. You can even sync your cloud recovery site with your on-premises data center in real time (or at scheduled intervals) to ensure that your data is always complete, accurate, and up to date.
In the event of a disaster, a public cloud disaster recovery solution allows for an automatic failover. This means that your backup systems become operational as soon as your primary data center becomes unavailable, ensuring optimum availability and error-free data recovery.
#4 Reliable
Traditional recovery solutions typically use tapes or disks. The problem with tapes is that they are prone to wear and tear if reused often. They also require storage in dark and dry conditions to last long. Disks also have short life spans and high failure rates. What's more, they require cooling and clean air to work properly.
In contrast, you can expect high reliability and long-time storage with public cloud recovery solutions. You don't even have to think about maintenance and storage condition requirements because your CSP will handle all of that for you.
#5 Accessible from anywhere
In the event that your office becomes inaccessible, you can still access your company's data using any internet-connected device. This means you can work from home, in transit, or practically anywhere. This is particularly helpful in situations like the COVID-19 pandemic where people have to work remotely.
Interested to use the hybrid cloud for your disaster recovery needs? You can rely on the experts of Charles IT to help you out. With our help, we'll make sure your vital data is regularly backed up and your files can be restored quickly. Get your free, instant quote today!